Seminars
in the Château
A privileged location
Ideally located at the centre of the Bourgoin-Jallieu – La Tour du Pin – Morestel triangle just 45 minutes from Lyon and 1 hour from Grenoble, the Château de Chapeau Cornu welcomes you for your seminars, professional events and business trips.
In the calm, authentic and charming setting, our hotel is a work-friendly location in a friendly and pleasant environment.
Don't hesitate to make us part of your projects: our team has significant experience to organise your business trips and seminar days (more than 250 seminars per year are organised) and understands your personalised projects.
Contact us

By telephone: +33 4 74 27 79 00
By e-mail: entreprise@chapeau-cornu.fr
Our facilities
The Château de Chapeau Cornu has 6 at 8 rooms which can hold up to 250 people :

2 conference rooms are inside the Château : the "Cour Intérieure" room and the "Salle de Bois" room
4 conference rooms next to the Château : "Chevalier" room, "Archer" room, "Ruisseau" room,  the "Archers room" and "the Caveau" room
2 smallers conference rooms

Contact us

By telephone: +33 4 74 27 79 00
By e-mail : entreprise@chapeau-cornu.fr

We provide various facilities to allow you to work in optimal conditions:
Video projector and projection screen
Flipchart
Telephone
Wi-Fi
Water bottles
Paper and pens
Television
DVD reader/ VCR
Rented video projector, computer equipment, sound equipment and lighting equipment
Our services and packages
The "semi-residential" package includes room rental and setup as well as equipment, lunch breaks, lunches and/or dinners, a stay in the hotel and buffet breakfasts.
The "study day" package includes equipment and the room for your meetings, lunch breaks, lunches and/or dinners.
We offer a "Low Cost Seminar", package valid for business stays and seminars at the start of the week. Don't hesitate to contact us.
Discover our seminar brochure
The "Prestige Seminar" package includes:
A "Business Centre" space near to your room (PC, internet access, fax, unlimited photocopies)
Personalised display for your company with logo
Stay in the loveliest rooms in the 3-star château hotel (link to "Rooms" page)
Welcome in English for your English-speaking employees
Meal in private room or on the terrace (at the foot of the château with view over the swimming pool)
Possibility of organising a wine evening on a regional theme (discovering a terroir, its food and wines)
"Knights room" (with video projector with multifunction laser, Wifi access, wireless microphone and console.
Coffee break in the room (Nespresso® coffee machine, sweet pastries made by our patisserie chef and fruit juice).
Welcome gift offered to your employees
Gourmet menus created by the chef of the restaurant "Le Capella" (link to the "Restaurant" page) with fresh and seasonal products
Incentive and Team Building activities
Meet your employees in this unique location: opt for incentive and team building activities aimed at encouraging discussion between employees and uniting your teams. We offer you various activities to reinforce the company mindset
We offer wine tastings in the Château's wine cellar: our sommelier will show you a selection of AOC wines and will provide his expertise to awaken your taste buds!
From 22 € to 34 € HT per person
Wine evenings can also be organised about a region, terroir and its wines.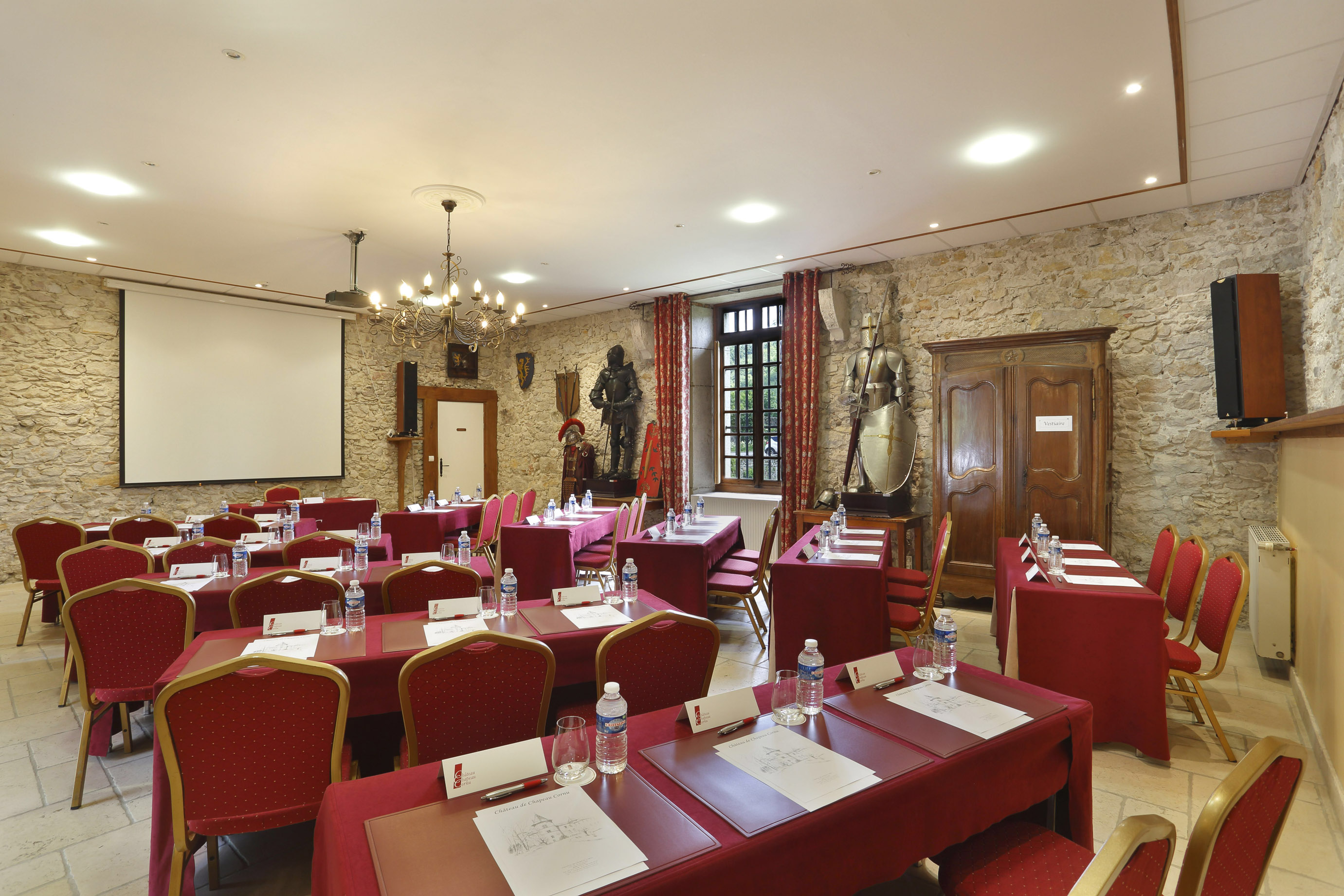 Rates Low season
From mid October 2017 to mid May 2018

Glass of wine and coffee included. Discover the Château de Chapeau Cornu loyalty card : stay 10 nights, get 1 night free.

Contact us

By telephone : +33 4 74 27 79 00
By e-mail : entreprise@chapeau-cornu.fr
Low cost
1/2 study day package / 39 €
Study day package / 46 €
Residential package - in single room / 149 €
Residential package - in double room / 127 €
Premium
1/2 Study day package / 55 €
Study day package / 72 €
Residential package - in single room / 199 €
Residential package - in double room / 166 €
Prestige
Study day package / 82 €
Residential package - in single room / 226 €
Low cost
1/2 Study day package / 47 €
Study day package / 55 €
Residential package - in single room / 174 €
Residential package - in twin room / 145 €
Premium
1/2 Study day package / 55 €
Study day package / 72 €
Residential package - in single room / 199 €
Residential package - in twin room / 166 €
Prestige
Study day package / 94 €
Residential package - in double room / 240 €